A spiritual retreat can be a fulfilling experience. A retreat offers the opportunity to be refreshed physically and spiritually, gives you the grace to be yourself,  and the invitation to deeper transformation. On retreat, there is quality time to bring your life situations, events, and experiences to prayer while developing a deeper connection with God. 
Private Directed Retreats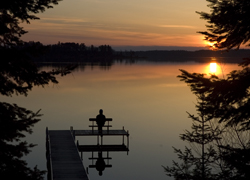 Come to Marywood Franciscan Spirituality Center for a retreat that is customized for wherever you may be in life. Whether looking for greater meaning in life, transitioning in life, or just needing a period of rest, we invite you to include us in this time. While staying in one of our cabins, you are invited to schedule regular check-ins with one of our spiritual directors. Spiritual direction can help you process your retreat experience and assist you in deepening your relationship with God.