A spiritual retreat can be a fulfilling experience. A retreat offers the opportunity to be refreshed physically and spiritually, gives you the grace to be yourself,  and the invitation to deeper transformation. On retreat, there is quality time to bring your life situations, events, and experiences to prayer while developing a deeper connection with God. 
Private Directed Retreats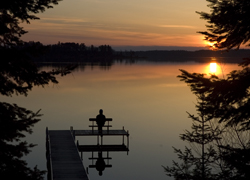 Come to Marywood Franciscan Spirituality Center for a retreat that is customized for wherever you may be in life. Whether looking for greater meaning in life, transitioning in life, or just needing a period of rest, we invite you to include us in this time. While staying in one of our cabins, you are invited to schedule regular check-ins with one of our spiritual directors. Spiritual direction can help you process your retreat experience and assist you in deepening your relationship with God.
Vacation with a Purpose:
Watercolor/ Mixed Media Workshop
May 30 – June 4, 2021
9:00 a.m. Monday – 3:00 p.m. Friday
Come, explore ways to use watercolors with water and non-water based media to create a variety of surfaces to paint on. Supplies needed: watercolor paints, and brushes, old brushes, paper towels, spray bottle, glue, gel medium matte, masking tape and 5 half sheets of 140 # cold press watercolor paper- sheets 15 x 11 (or available for $3.25 per sheet), plus other watercolor supplies that you have. Other materials will be supplied. You might bring incomplete paintings to work on in a different way. Bring a lunch.
Monday: Rice papers and Watercolors
Tuesday: Metallics and watercolors
Wednesday: Watercolor, watercolor pencil, and acrylics with rice and
hand-made paper
Thursday: Textural Supports of layered papers and watercolors
Friday: Textural Supports of embedded natural elements
Workshop for the week: $200.00 or $40 each day. Workshop with cabin stay (private room in a shared cabin): $475. Deposit $100. 
Register by Monday, May 3, 2021.
Presenter:
Karen Kappell, FSPA
Silent Directed Retreat
June 5-13, 2021
5:30 pm Saturday – 1:00 pm Sunday
Retreat begins with a simple supper together at 5:30 p.m. on Saturday and ends on Sunday with departure by 11:00 a.m. Participants are responsible for all other meals. Each retreatant meets once each day with their spiritual director.  The rest of the day is spent in prayer and solitude, enjoying the water, woodland environment, and lakeside cabin. 
Please include a $100.00 deposit. Fee: $525 includes spiritual direction plus eight nights in a private room in a shared lakeside cabin.
Register by Tuesday, May 4.
Retreat Directors:
Sister Elizabeth Amman, OP
Sister Marla Lang, FSPA
Sister Mary Ellen Green, OP
Pat Pintens
Pastor Grant Van Lishout
Art Retreat
Vacation with a Purpose
Beginning Watercolor Workshop
July 5-9, 2021
9:00 am – 3:00 pm each day
This workshop is for first timers and those wanting to expand their beginning skills. We will explore the enchantment of water and watercolor paints. Bring supplies you already have or wait for suggestions on what you may want to purchase. I advise getting paints that have the AP marking and soft watercolor brushes. Basic supplies maybe bought in class. We will discuss preparing paper, painting techniques and some color theory. Subjects for painting will be florals, landscapes, seascapes, etc. Bring a lunch.
Workshop for the week: $200 or $40 each day if not attending the full week. Workshop with cabin stay (private room in a shared cabin): $475. Deposit $100. Meals not included.
Register by Monday, June 7, 2021.
Presenter:
Sister Karen Kappell, FSPA